Final Sale
Frequently Asked Questions
We offer flat rate shipping at the following rates:
| | |
| --- | --- |
| $0 - $49.9 | $5 shipping |
| $50 - $149.9 | $10 shipping |
| $150 - $249.9 | $15 shipping |
| $250+ | Free standard shipping! |
Orders are usually processed and shipped the same day or the next business day.
All products are shipped from Irving, TX with standard FedEx Ground shipping. 
FedEx ground shipping takes anywhere from 1-3 additional business days to arrive. If you live in a remote region, sometimes it can take more.
We currently do not offer express shipping as a standard checkout option. If you need an order soon, please send us an email at cs@hiendaccents.com and we'll make it work!
A duvet cover requires an insert, such as one of our cozy down or down alternative inserts.
A comforter comes pre-filled, adding convenience but limiting some flexibility in selecting your own insert.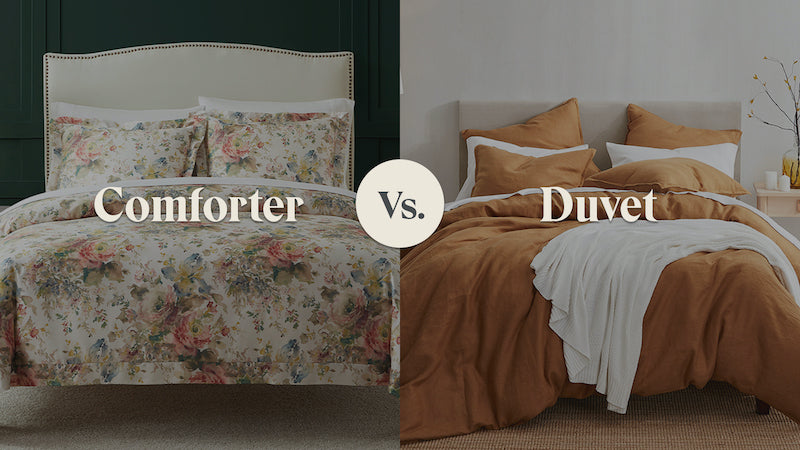 Customer Reviews
Opinion time!
I had a few problems with this comforter set, I may be the only one with this problem, but if not, let me know.First things first - softness. I would rate the softness of this comforter set a 7 out of 10. The inside of it, the part you sleep in, is really soft. But, the outside of it, the exterior, is a little scratchy and uncomfortable.Second thing - lightweight. I don't know other peoples definition of lightweight, but its really heavy haha. Like... if I was to rate it out of 10, I would probably have to say a 6. It's a pain in the butt to have to put the dust skirt on, then all the layers, but its still really pretty. All the different pillow cases, they arent soft, but good for decoration.Last but not least - comfort. I would have to say that the comfort level is actually pretty good. I would have to give the comfort level a 8 out of 10. Because the comforter itself is so heavy, it keeps you warm at night. And in my opinion, its like a pretty weighted blanket, which helps with my anxiety.All in all, I give this whole set a 8 out of 10.
I love it!!!!
Great product, quick shipping
Douilette camo
Wowww je ladore !!!! Merci
Pink camo comforter set
Bought this for my 10 year old grand daughter and she loves it. She has white bedroom furniture and it looks great! Nice quality and would definitely buy again!
None
Perfect for our Cottage guest room.our guest are able to get a good nights rest. They are able to stay warm and snuggle up in the bed comforter.